TJ's Landscaping and Lawn Care Service, LTD
TJ's Landscaping and Lawn Care has been offering professional landscaping services to Loveland and the Cincinnati, Ohio area for over 20 years. If your landscape needs a rehab, makeover, tune-up, or just some regular attention, call us first! We offer the whole package when it comes to landscaping, from project design and execution to regular follow up service. We guarantee customer satisfaction, so bring us in to see how great your yard can look!
Our Professional Landscaping Services Include:
COMPLETE START-TO-FINISH SERVICE
GRASS SEEDING, FERTILIZING, AND WEED CONTROL
MULCHING
FALL CLEANUP
LOT CLEARING
NEW LAWN INSTALLATION
LANDSCAPE DESIGN, INCLUDING TREE AND FLOWER PLANTING
PAVERS, PATIOS, AND WALKWAYS
TERRACING AND RETAINING WALLS
DECORATIVE WATER FEATURES
BOBCAT AND BUSH HOGGING WORK
Need something you don't see here? Just ask! We will gladly assist you with information on any project.
Contact TJ's Landscaping and Lawn Care today at 513 509-3209 to schedule your landscaping service, or browse our website for more information on our lawn maintenance services or our commercial snow removal services.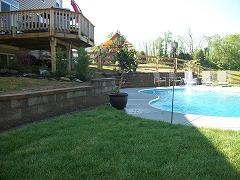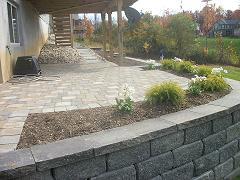 TJ'S HARDSCAPING DESIGN & INSTALL
Interested in a retaining wall or patio? We do that as well. If you would like to get an overview about our hardscaping service please call us today 513-509-3209

Commercial Snow Removal Service
We provide a full service snow removal service to commercial clients. If you need an estimate or would like to go over costs to have your property cleared of snow, please call us today 513-509-3209